Dr. Gene Williams Goes Home to Glory
Posted on Dec 18, 2016 at 12:00 AM
---
Dr. Gene Williams, President of Luther Rice College & Seminary from 1982-1992, went home to be with the Lord Sunday, December 18, 2016. Dr. Williams traveled the world preaching the gospel and was a leader in Christian higher education. The Luther Rice family is grateful for his extraordinary life of service and ministry. —Dr. James Flanagan, President, Luther Rice
Dr. Gene Williams, Founder of Concern for the World, Dies at 89

"This one thing I do!" was the lifelong motto of Dr. Gene Williams, 89, who went to be with his Lord and Savior on the afternoon of Sunday, December 18, 2016. He always kept his mind and heart fixed on the one thing God called him to do - preach the Word that leads souls to Christ.

Williams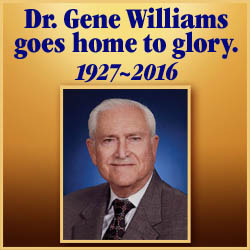 was born in Corsicana, Texas in 1927 to Henry and Iola Williams, a tradesman and homemaker. Williams described his life as very ordinary, saying "I was an ordinary little baby, born in an ordinary little town, in an ordinary little house to ordinary parents. Who would have imagined that God had such a plan for this little baby boy?"
Living through the Great Depression, the Williams family moved often looking for work. It was in Houston that they finally settled where his father found work as a furniture salesman. After listening to the radio broadcast of old-time evangelist Mordecai Ham, nine-year-old little Gene accepted Christ as his Savior. Later at the age of 15, seemingly by accident, but knowing he was called, he started preaching in 1942 when the pulpit supply minister did not show up for a service. By 1944 he had started working at his first church, a Baptist church that met half-time, sharing a building with the Methodists. In 1945 he was ordained into the Gospel ministry and in 1948 was pastoring his first church full-time when he married the former Dorothy Fiew. After serving as pastor of churches in Texas, Louisiana and Alabama he entered vocational evangelism in 1957.

Williams conducted his first missions focused overseas crusade in 1960 in Jamaica. In 1963 he led an 80-day 'around the world' crusade traveling to Hawaii, Japan, Taiwan, Philippines, Korea, Guam and Iceland. He led one crusade in India in which he preached to over 36,000 people and saw 5,000 precious souls accept Christ. His busiest years of evangelism were between 1979 and 1985 when he led 40 crusades a year in the U.S. and around the world. He has led over 2,000 revival meetings in America and over 135 overseas crusades in foreign countries.

He founded Williams Ministries in 1959 and in addition to leading revival meetings, Williams served as chairman of the board of the missions ministry now named Concern for the World and produced a gospel television show called World Concern. He taught evangelism and missions at Liberty Baptist Theological seminary with Dr. Jerry Falwell in the early 1970's and became president of Luther Rice Seminary in 1982, serving in that capacity until 1992.

Through the decades, Williams Ministries and now Concern for the World has supported hundreds of evangelists in America and abroad. More than 50,000 souls are saved each year through the ministry of Concern for the World and some estimate more than 2 million professions of faith have been made through Williams' ministry. He was a member of the International Mission Board of the Southern Baptist Convention and was elected to the "Hall of Faith" of Southern Baptist Evangelists in 2008.

In the latter part of his life, Williams dedicated his time to preaching the Word, ministering to pastors, and spending time with his family.

He received a Bachelor of Arts degree from Baylor University, a Master of Divinity degree and the Doctor of Philosophy degree from New Orleans Baptist Theological Seminary.

Throughout his life Williams gave much of the credit for his success to his late wife Dorothy. He is survived by his three children, Sandra, Randall (Christa), and Tim (Joy), four grandchildren Reagan (Mandy), Judson (Petra), Brittney, and Ashlyn (Gabriel), and four great-grandchildren Ryleigh, Tucker, Ivalee, and Michayah.

A memorial service will be held at 2 pm Thursday, January 5 at First Baptist Church Conyers, 2100 Old Hwy 138 NE, Conyers, GA. Visitation with the family will begin immediately following the service. A private internment was held.

In lieu of flowers, the family asks that donations be made to Concern for the World to help spread the Gospel of Christ to the nations or to Luther Rice College and Seminary to further ministerial training. Concern for the World, P.O. Box 673, Millbrook, AL 36054 and Luther Rice College and Seminary, 3038 Evans Mill Road, Lithonia, GA 30038. For information regarding services or donations, contact Reagan Williams at 706-836-8123.
---
---