Fall Course Registration Apparel Package Give-a-way
Posted on Aug 24, 2017 at 12:00 AM
---
We know you may be busy with family, ministry, and fall planning. But now's the time to register for the next semester's courses. If you have not registered, we want to encourage you to register by September 3rd, so we are doing another Luther Rice Apparel Give-a-way. If you have already registered for fall courses you will automatically be entered in the drawing.

All students that register for a fall course up to September 3rd, will be entered into a random drawing for one-of-five apparel packages. The packages include a backpack, t-shirt and sweatshirt all emblazoned with the Luther Rice name and logo. These are high quality products hand selected by our staff just for you.

Seven students won a package during the spring semester and were shipped their new apparel. The winners were from various states including GA, TN, FL, TX and ND. Next month it could be you.

You may also purchase your own Luther Rice branded collegiate products at our third-party supplier PrepSportswear.com.

Fall online classes start September 4th and on campus classes start September 5th.
View Available Courses on the Course Schedule Planner
Register for a Course on MyCampus by September 3rd
Be Automatically Entered to Win 1-of-5 Apparel Packages
Random Drawing Held September 11th
Winners Will Be Notified by Email
So, go ahead and check out the available fall courses—and register today if you have not already done so.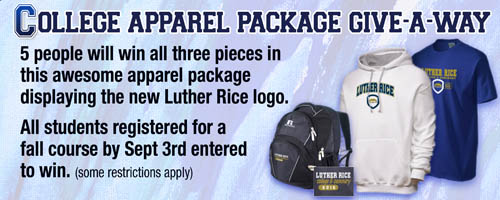 ---
---