Project FOCUS—Now on NRB TV
Project FOCUS offers Free, non-credit, self-paced short courses that provide sound biblical teaching by Luther Rice College & Seminary professors through an easy-to-use online course delivery system. And it's completely free, no strings attached.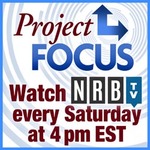 Project FOCUS courses are airing as television episodes on NRB TV starting January 6th, 2018. The normal broadcast time is 4:00 pm ET (3:00 CT) on Saturdays. Content can also be viewed on the NRBTV.org website. View channel guide and streaming providers that carry NRB TV. Full courses are still available only on projectfocus.education.
Maybe you fit into one of these groups?
Interested in attending a Christian College or Seminary and want to give it a "test drive"?
Are you a Luther Rice graduate and want to share your Luther Rice educational experience with others?
Are you on the mission field and need resources for training or sharing biblical teaching with others?
Are you a Sunday School Teacher or Small Group Leader and need sound, fresh material for your group?
College or Seminary not in your future, but you are hungry for solid biblical teaching?
There are 4 - 6 video sessions per course. Each course is focused on a central theme, such as "How to Share Your Faith." Videos are no longer than 30 minutes. Downloadable study notes, consisting of questions that can be used in a small group or individually, help you to apply the video content to everyday life.
Quick FAQ's
How do I sign up?
How do I register for a class?
Visit www.projectfocus.education. New students or returning students (once logged in) simply hit the REGISTER button for the course they wish to take.
How do I go to my courses?
Click on GO TO YOUR ONLINE CLASSES in the grey box or click on the GO TO ONLINE CLASS button below the class you are registered for. You will then be directed to sign-in to your online classroom using your Project FOCUS username (email address) and password.
How do I start my courses?
The courses you are registered for will appear once you are logged into the online classroom. Simply click on the Course Title and all lessons for your course will be available.
Can I register and participate in more than 1 course at a time?
How long do I have access to the course?
You have unlimited access to the course. Only if you DROP the course on the registration page will you lose access.
Can I watch the videos multiple times?
Can our group sign in as a user and take the course?
Do I get college credit for these courses?
Why are there quizzes? Are they required?
All quizzes are optional. Quizzes are simply a way for you, the student, to engage with the material, better understand the concepts presented, and apply what you have learned in your walk with Christ.
Are more courses available?
We are continually creating new Project FOCUS courses. We will notify you via email when a new course is made available.